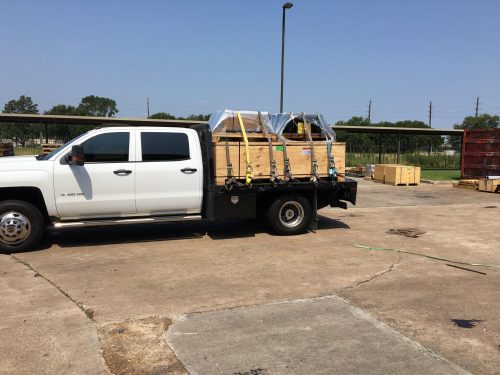 When you need a delivery fast, on-time and transported reliably, there's no better hot shot trucking company in Houston, TX than Pro Delivery, LLC. We cover any and all less-than-load (LTL) deliveries you might need to Houston, TX and the contiguous United States. Our services ensure loads of any sizes are being transported efficiently to their destination.
Our Fleet
We rely on a fleet of pickup trucks for hot shot delivery in Houston, TX. Our trucks are equipped with mini-float attachments or pipe racks depending on the freight, allowing us to effectively and efficiently transport just about anything that will fit in the bed.
We have staff of more than 50 drivers ready to be dispatched 24-hours a day. Plus, thanks to our state-of-the-art communication and logistics capabilities, we always know exactly where our drivers are with your cargo. This enables us to coordinate deliveries on-time and within budget, every time.
Deliveries on-demand
What sets our LTL trucking company in Houston, TX apart from others is the sheer flexibility of our services. We're available whenever you might need us and can offer flat rates for most of our services upon consultation. And, in addition to one-off deliveries as-needed, daily routes can be scheduled for regular, consistent deliveries and pickups—usually with the same driver or drivers at discounted rates!
No matter if your load is a singular item or is comprised of small LTL freight, we're ready to pick it up and transport it at any time of day. We even offer same-day delivery to much of the local Houston, TX area and can deliver freight by 6am sharp in many cases.
LTL trucking you can rely on
For Pro Delivery, LLC, no LTL delivery is too small and there's no deadline we won't face against! Our pricing is competitive and consistent for same-day delivery or pickup and delivery services. We invite you to experience our superior level of customer service for yourself and give us a call today at 281-469-4878.