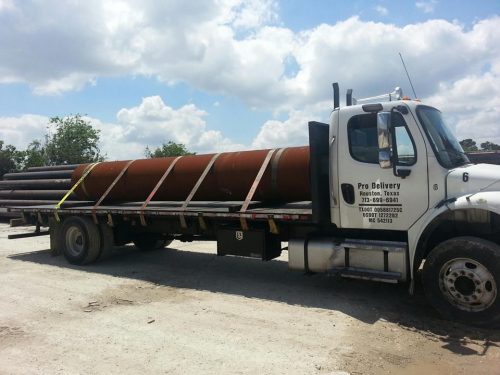 For large, oversized, odd-dimensioned loads, there's no better option than flatbed shipping in Houston, Cypress, or Jersey Village, TX. Flatbed trucks enable easier transport and delivery of these items, ensuring a quicker, safer solution that's also cost-effective. Pro Delivery, LLC has a full fleet of flatbed trucks ready to roll out at a moment's notice, giving you full access to flatbed trucking whenever you might require it.
Our flatbed trucking company's fleet consists of both small- and large-stake beds, enabling us to work around the weight and dimensional needs of whatever you're having transported. We have a depth of experience when it comes to transporting a wide range of materials—including oversized equipment. Our drivers are also extremely experienced in operating flatbed vehicles and coordinating the safe transport of every load.
Flatbed delivery made simple
When you choose Pro Delivery, LLC for flatbed delivery services in Houston, TX, you're getting upfront, honest service each and every time. We don't upcharge for things like fuel, extra weight or dimensional factors—instead, the rate you're quoted is the true rate you'll pay. It's how we set ourselves apart from other companies.
Serving all industries
Our flatbed trucking company in Houston, TX is well-versed in serving the needs of a huge number of industries! We frequently haul equipment and materials for oilfield operations, however we're also familiar with construction equipment and materials, pipe and valve fittings, and more. If it fits on the back of a flatbed truck, we're apt to deliver it!
If you have questions about our flatbed shipping or would like more information about our capabilities and experience, please contact us today at 281-469-4878. We'll consult with you about your load, the right type of flatbed truck required to handle it, rates and timelines. Our experienced team is ready to take care of the transport logistics for you, so you can get back to focusing on the job in front of you. We're here to help with flatbed trucking, hot shot trucking, freight delivery, and more!